---
---
---
---
---
Crystal Magic Orchestra's CDs, Meditations on Amazon.com
---
---
---
---
---
---
NOTE:  A person MUST wear Earphones to listen to
Crystal Magic Orchestra's music to fully
hear and experience all of the
Cosmic Frequencies of Light in the music
---
6 CD MEDITATION Set
DNA Reprogramming 6 CD Set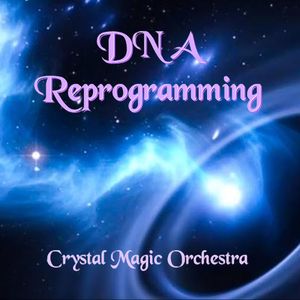 PURCHASE CD 1
PURCHASE CD 2
PURCHASE CD 3
PURCHASE CD 4
PURCHASE CD 5
PURCHASE CD 6
The DNA REPROGRAMMING CD Set contains directions and frequencies used to Raise Consciousness into the Merkaba that raises the body into an orb. 

Dr.Angela Barnett is truly the most qualified Doctor of DNA through her Vast Understanding of the spiritual DNA in its highest form. She has optimized her understanding of connecting the physical DNA into the spiritual reality of the multi dimensional neuronet system of infinite versions of parallel realities. Dr. Barnett spent twenty years with Universal and Cosmic Race lines including the Elohim Sirian, Lyran, Azurite and Oraphim in experiential learning of collecting and connecting Frequencies. Through the Elohim of Hearing, the Breath of Source and an infinite variety of Frequency Signatures of valuable beings of Light, Dr. Barnett learned to perfect the art of braiding Light and Sound Frequencies from Source into all of the Infinite Frequencies within the Light Spectrum of Ultra Violet Blue, White Light, Pre Light and Sound, Infra Red, X-ray, Gamma  and Hertzian Frequency Waves. Dr. Barnett studied and perfected this technique in order to remove the veil between the spiritual and physical reality. 

The music from the MUSIC OF THE SPHERES has been collected in its entirety by Dr. Barnett and it can be used for Spiritual Healing, connecting neuronets into the Super Human Consciousness, activating the Light Body and the Orb Body for Bi Location, Astral Travel and complete Galactic Travel. 
READ MORE . . .